In the realm of disaster recovery and restoration, loss adjusters play a crucial role in assessing and managing insurance claims. The success of their work depends on partnering with a reliable restoration company that demonstrates responsiveness and effective communication. Helio Restoration emerges as a beacon of hope for loss adjusters. We offer a proactive approach and unparalleled dedication to addressing catastrophic events promptly and efficiently. In this blog post, we will delve into how Helio Restoration can meet and exceed the expectations of loss adjusters, making it the reliable restoration partner for any challenging situation.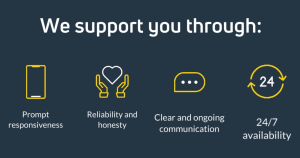 Prompt responsiveness
When disaster strikes, time becomes an invaluable asset. Loss adjusters need a restoration partner who can act swiftly and decisively to contain damages and initiate restoration. Helio Restoration excels in this regard by guaranteeing a rapid response to job requests within hours of the initial contact. With the ability to promptly attend sites across Australia, Helio Restoration minimises costs and stops the progression of damages at their early stages. This timely and proactive approach ensures a smoother and more efficient restoration process.
Reliability and honesty
The integrity and trustworthiness of a restoration company are of utmost importance for loss adjusters. Helio Restoration prides itself on doing the job right from the beginning. Our team of highly qualified resto-techs and project managers conducts thorough assessments and quotations, ensuring transparency and avoiding overcharges. By prioritising honesty and accuracy in all restoration projects, Helio Restoration builds a solid foundation of trust with loss adjusters, providing them with peace of mind throughout the claim process.
Effective communication
Clear and consistent communication is essential during restoration projects. Helio Restoration strongly emphasises effective communication throughout the claim life cycle. We understand the importance of providing daily and/or weekly updates to loss adjusters, keeping them informed about the progress and status of each restoration job. Additionally, Helio Restoration designates a singular point of contact within our team to streamline communication. This ensures that loss adjusters have reliable references and easy access to any necessary information.
24/7 availability and dedication
Disasters can strike anytime, and loss adjusters need a restoration partner they can count on 24/7, 365 days a year. Helio Restoration's commitment to dedication and availability sets it apart in the industry. Our team is always ready to respond to queries and concerns, providing constant support to loss adjusters and insured parties. This unwavering availability reinforces the trust between all stakeholders involved and contributes to a seamless and successful restoration process.
Through its immediate responsiveness, reliability, and effective communication, Helio Restoration is a top choice for any restoration job, particularly during catastrophic events or emergencies. Loss adjusters can rely on Helio Restoration's proactive approach, highly qualified team, and constant availability to ensure that restoration projects are handled with precision and care from start to finish. As the demand for efficient and trustworthy restoration partners continues to grow, Helio Restoration remains steadfast in its commitment to supporting loss adjusters and contributing to the restoration of communities across Australia.
MEDIA ENQUIRIES
Glenn Lucas

Escape of liquid

Fire & smoke damage

Storm & CAT response

Industrial machinery

Biohazard

Malicious damage

Asbestos

Drug labs

Sewage